SolarEdge Synergy 82.8kW Solar Inverter - 3 Phase with MC4 Connectors
SolarEdge Synergy 82.8kW Solar Inverter - 3 Phase with MC4 Connectors
SKU:
SE82.8K-RW0P0BNY4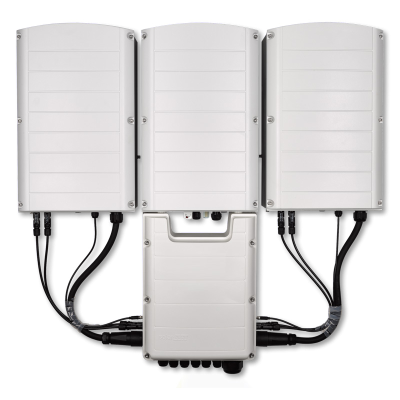 olarEdge's expanded offering of three phase inverters with synergy technology up to 100kW combines large capacity with ease of installation. The inverter design is based on small, lightweight, and easy-to-carry primary and secondary units. They are wall mounted for a minimal footprint, with installation only requiring a one or two-person crew. No crane or special tools are needed when installing the inverter, unlike alternative large capacity inverters on the market today, which are heavy, bulky, and difficult to install. Installing SolarEdge's large capacity inverters instead of using multiple, smaller capacity inverters will further reduce setup times and costs.
Note: Secondary Units are sold separately - 2 required for SE82.8K.
Login to see Trade Prices
Manufacturer

SolarEdge Technologies

Phases

3 Phase

Power Rating kW

82.8

Inverter Type

Optimised Inverter

Built in DC

No

No. of MPPT

N/A

Built in Communication

Optional

Commodity Code

85044086

Dimensions (mm) (H x W x D)

940 x 315 x 260
The SolarEdge three phase solar inverter range requires power optimisers to function due to it having no trackers. The inverter is responsible for DC to AC inversion due to the MPPT and voltage management being handled separately for each module by the power optimiser. Fixed string voltage technology ensures the inverter is working to its optimal input voltage at all times, regardless of string length and environmental conditions. This inverter has excellent efficiency, performing above 97%. The characteristics of this inverter allows for a quick and easy install which can be carried out indoors or outdoors. These inverters also include a built in module performance monitoring data receiver. Communication with the solar PV array is possible with the inverters ability to connect to the internet via broadband or wireless ZigBee. This inverter comes with a 12 year warranty as standard, which is extendable to 20 or 25 years.