Studer AJ Series Inverter 24V/2000VA/230V with Solar Charge Controller
Studer AJ Series Inverter 24V/2000VA/230V with Solar Charge Controller
SKU:
AJ2400-24-S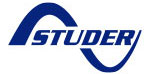 • High and steady efficiency
• Outstanding overload capabilities
• Digital regulation and control by microprocessor
• Electrical supply to any type of appliance
• Full internal protection
• Stand-by level adjustable from a very low threshold
• Battery lifetime optimization (B.L.O.) function
• 5-year warranty
Login to see Trade Prices
Manufacturer

Studer Innotec

Voltage

24V

Dimensions (mm) (H x W x D)

273 x 399 x 117

Grid Voltage

230V

Output Connector

Hardwired
Inverter to power medium to big size appliances, 2kVA continuously, 2.4kVA during 30 minutes. Able to cope with peak demand higher than 2x its nominal power, it is especially well adapted to power most household appliances. This version comes with built-in PWM solar charge controller (30A-~1kWp-72 cells), it is then the ideal solution for big size Solar Home Systems (SHS) with 24V battery.
FEATURES AND PERFORMANCES
• High and steady efficiency
• Outstanding overload capabilities
• Digital regulation and control by microprocessor
• Electrical supply to any type of appliance
• Full internal protection
• Stand-by level adjustable from a very low threshold
• Battery lifetime optimization (B.L.O.) function
• 5-year warranty