BYD 7.7 kWh HVS Battery Box Premium - BCU & Batteries
BYD 7.7 kWh HVS Battery Box Premium - BCU & Batteries
SKU:
BYD-HVS-7.7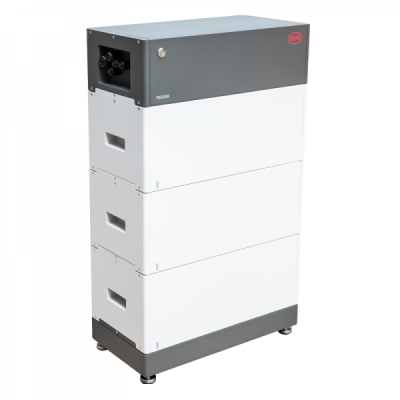 BYD Battery Box Premium HVM/HVS Battery, Base and Control Unit consists of the below:
BYD Battery Base and BCU
SKU: BYD-HVS-BCU
The BYD HVM/HVS range is built up using the control unit and base then adding multiple batteries to the system, this product consists of the PDU and base. 1pcs is required per system
BYD Battery Box Premium HVS 2.56kWh Lithium Battery
SKU: BYD-HVS-2.56 (x3)
In the high voltage versions of the BYD Battery-Box Premium Line, a differentiation is made between the smaller HVS and the larger HVM.

The capacities of the combinable batteries range from 5.1-12.8 kWh (HVS). Like its predecessors, the Battery-Box Premium HVS is based on lithium iron phosphate, one of the most reliable storage technologies. The battery has a modular structure and can be expanded in steps of 2.6 kWh (HVS). This means that there is nothing to prevent the storage being expanded at a later date. The floor mounting means that the installation and commissioning process can again be carried out quickly and easily.
| | |
| --- | --- |
| Battery Module: | HVS (2.56 kWh / 102.4 V / 38 kg) |
| Number of Modules: | 3 |
| Usable Energy [1]: | 7.68 kWh |
| Max Output Current [2]: | 25 A |
| Peak Output Current [2]: | 50 A, 3 s |
| Nominal Voltage: | 307 V |
| Operating Voltage: | 240~345 V |
| Dimensions (H/W/D): | 995 x 585 x 298 mm |
| Weight: | 129 kg |
| Operating Temperature: | -10 °C ~ +50°C |
| Battery Cell Technology: | Lithium Iron Phosphate (cobalt-free) |
| Communication: | CAN/RS485 |
| Enclosure Protection Rating: | IP55 |
| Round-trip Efficiency: | ≥96% |
| Certification: | VDE2510-50 / IEC62619 / CEC / CE / UN38.3 |
| Applications: | ON Grid / ON Grid + Backup / OFF Grid |
Login to see Trade Prices