SolarEdge Synergy 100kW Solar Inverter - 3 Phase with MC4 Connectors & DC
SolarEdge Synergy 100kW Solar Inverter - 3 Phase with MC4 Connectors & DC
SKU:
SE100K-RW0P0BNU4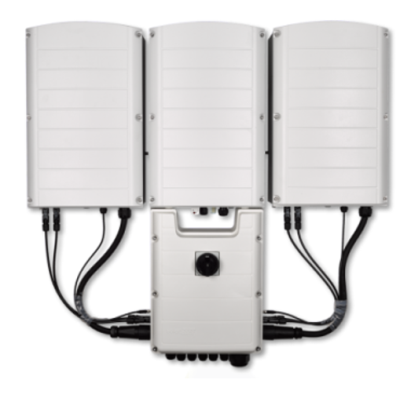 SolarEdge has expanded offering of all three-phase inverters with synergy technology up to 100kW combines large capacity with ease of installation. The inverter design is based on small, lightweight, and easy-to-carry primary and secondary units. They are wall-mounted for a minimal footprint, with installation only requiring a one or two-person crew. No crane or special tools are needed when installing the inverter, unlike alternative large capacity inverters on the market today, which are heavy, bulky, and difficult to install.
Login to see Trade Prices
Manufacturer

SolarEdge Technologies

Phases

3 Phase

Power Rating kW

100

Inverter Type

Optimised Inverter

Built in DC

Yes

No. of MPPT

N/A

Built in Communication

Optional

Commodity Code

85044088

Dimensions (mm) (H x W x D)

940 x 315 x 260
Installing SolarEdge's large capacity inverters instead of using multiple, smaller capacity inverters will further reduce setup times and costs. This new generation of SolarEdge three-phase inverters is available in the following sizes: 50kW, 55kW, and 82.8kW as well as 66.6kW and 100kW for medium voltage grids.
SolarEdge Inverter SetApp and the New Standard in Inverter Commissioning
Inverter commissioning has never been this easy. Activating, commissioning, and configuring your inverter is now done directly through your smartphone using the SolarEdge SetApp mobile application.
Additional highlights:
Independent operation of each unit enables easy serviceability for high system uptime
Connection to the SolarEdge monitoring platform via Ethernet or wireless communications, including optional built-in cellular GSM plug-in
No wasted ground area: wall/rail mounted, or horizontally mounted under the modules (10° inclination)
Designed for tough working environments
Includes a built-in RS485 surge protection device plug-in, designed to protect the RS485 transceiver from electrical surges
Integrated DC safety unit with DC safety switch and optional surge protection & DC fuses, eliminating the need for external DC isolators
Built-in double RS485 plug-ins