SolarEdge P801 Rail Mounted Power Optimiser - Landscape
SolarEdge P801 Rail Mounted Power Optimiser - Landscape
SKU:
P801-4RM4MRY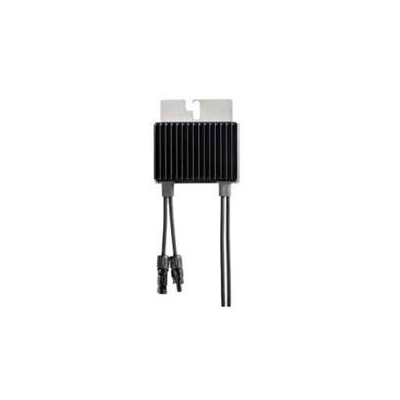 SolarEdge P801 Power Optimizer Permitting An Installed Power Capacity Of 860W For Solar Modules Up To 430W
*Suitable design required with P801. SolarEdge Designer must be used to validate compatibility. Please see further details of the upgrade and waiver here.
The SolarEdge Power Optimizer is a DC/DC converter which is connected to each solar module – - or pair of solar modules in the case of a commercial system - turning them into smart modules.
Maximising energy production of individual solar modules
The Power Optimizers enable greater energy yield from the PV system overall by allowing individual modules within a string to work at their maximum power point (MPPT), and so mitigating all types of module mismatch-loss, from manufacturing tolerances to partial shading and aging.
Enabling module level monitoring
SolarEdge Power Optimizers monitor performance at the module level and communicate data to the SolarEdge Monitoring Platform. SolarEdge's Monitoring Platform gives installers full module-level visibility of system performance and comprehensive reporting. It enables automatic alerts to be set up, issues to be pinpointed along a string and remote troubleshooting to be carried out. System owners also have access to SolarEdge Monitoring via the mySolarEdge app.
Increasing safety
With SolarEdge SafeDC™, when there is no communication between the inverter and Power Optimizer, the default output voltage of each Power Optimizer is reduced to around 1V per module. This means that as soon as the inverter is disconnected from the grid, e.g., during installation, maintenance or emergencies, the DC voltage decreases to a touch-safe level to protect people and property.
SolarEdge inverters are also designed to identify arc detections and subsequently shut down, in compliance with UL1699B arc detection standard.
Warranty
25 years
Login to see Trade Prices
Manufacturer

SolarEdge Technologies

Power Optimisers

Landscape

Commodity Code

90328900

Dimensions (mm) (H x W x D)

49.5 x 129 x 153
Per-module Maximum Power Point Tracking (MPPT), with MPPT per two modules using commercial power optimizers
Superior efficiency (99.5% peak efficiency, 98.8% weighted efficiency)
Mitigates all types of modules mismatch-loss, from manufacturing tolerance to partial shading and ageing
Designed for extreme environmental conditions
25-year reliability and warranty
Advanced, real-time performance measurement
Automatic module DC voltage shut-down for installer and firefighter safety
Connected by installers to c-Si, thin-film, and high current (including bi-facial) modules