Fronius Symo 3.0kW Solar Inverter - 3 Phase with Communication
Fronius Symo 3.0kW Solar Inverter - 3 Phase with Communication
SKU:
4.210.036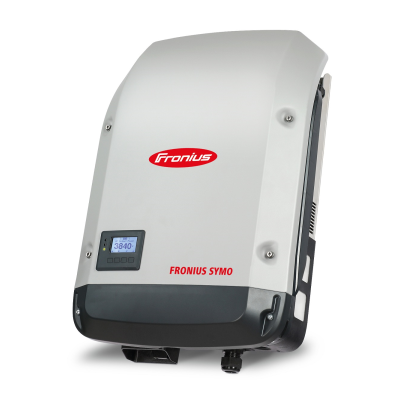 The Fronius Symo, transformerless three phase inverter suits solar PV systems of all sizes. Maximum flexibility in system design is guaranteed with the high system voltage, wide input voltage range and unrestricted use indoors and outdoors. The Fronius Symo is one of the most communicative inverters available on the market, using WLAN or Ethernet it connects to the internet and allows system owners to monitor their system remotely.
Login to see Trade Prices
Manufacturer

Fronius

Phases

3 Phase

Power Rating kW

3

Inverter Type

String Inverter

Built in DC

Yes

No. of MPPT

2

Built in Communication

Integrated

Off-Grid Compatible

Yes

Commodity Code

85044085

Dimensions (mm) (H x W x D)

645 x 431 x 204
Unique Fronius PC board replacement process
Fronius Service Partners are able to deliver fast inverter servicing due to the unique way the Fronius Symo range has been developed. These units have been designed specifically to make replacing PC Boards quick and efficient to minimise the amount of down time of the system.
SnapINverter
The innovative hinged system design of this inverter offers a simple installation and servicing process for the user. The connection and power stage set compartments are installed separately with the connection compartment and the cables mounted to the wall first, followed by the power stage set compartment. This means when servicing the unit there is no need to detach the whole inverter; only the power stage set compartment needs to be removed, leaving cables, settings and configurations in place.
Integrated WLAN interface
Fronius have included simple data monitoring with this inverter with the WLAN interface. The inverter connects wirelessly and allows the user to monitor how the solar PV system is performing via the Fronius SolarWeb using an internet ready device.
Open Data Communication
Fronius have made their inverters connect easily to the communication platforms offered by third party suppliers. The open Modbus TCP SunSpec standard protocol provides a simple way of establishing a data connection to other systems. This is achieved by using the existing Ethernet interface giving reliable communication.
Smart Grid Ready
Fronius have future-proofed their technology by equipping their inverters for the Smart Grid of the future. Advanced Grid features have been built into these inverters, these include control functions for optimum feed-in of reactive/effective power. This functionality allows for stable grid operation even in circumstances when the solar PV density is very high and yield losses can be a resulting factor. This helps ensure the return of your PV system.