IMO FireRaptor Rapid Shutdown Unit
IMO FireRaptor Rapid Shutdown Unit
SKU:
FRS-01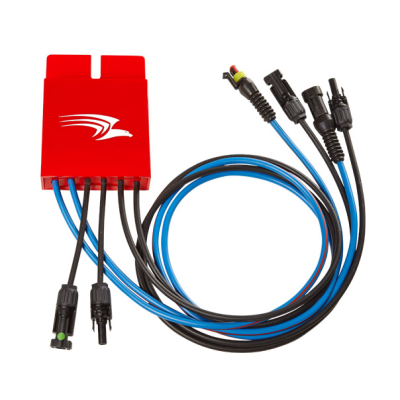 In cases of fire in buildings with solar installations present, the panels continue to produce energy as long as there is daylight present, so it is critical that the live DC wiring in and around the building is isolated as close to the panels as possible. The FireRaptor isolates the DC wiring directly behind the panels.Each FireRaptor operates two solar panels and is positioned behind the panels and attached to the panel mounting frame. The FireRaptor is rated at 700W, so is suitable for most types of solar panel currently available on the market.
Login to see Trade Prices
Manufacturer

IMO Precision Controls

Accessory Product Type

Protection

Commodity Code

85365005

Dimensions (mm) (H x W x D)

147 x 100 x 30
The IMO FireRaptor provides three forms of Solar Panel Rapid Shutdown to ZERO VOLTS in case of fire or another emergency:
MANUAL EMERGENCY SHUTDOWN
The manual shutdown is operated via an Emergency Rapid Shutdown Switch utilising a typical "one-push" large emergency push button. The switch can be conveniently located anywhere for emergency access and is supplied with a 24VDC power supply to interface with the FireRaptor units.
AUTOMATIC EMERGENCY TEMPERATURE SHUTDOWN
Automatic shutdown occurs via the temperature sensor onboard the FireRaptor which detects an ambient temperature rise in excess of 85°C (185°F). In the event that the temperature exceeds 92°C (198°F) then the FireRaptor will only re-engage the solar panels by manual reset done via the emergency switch. Otherwise, the FireRaptor will re-engage the solar panels automatically if the temperature drops back below the 85°C (185°F) cut-out level.
AUTOMATIC EMERGENCY EXTERNAL POWER LOSS SHUTDOWN
Disconnection of the external AC supply, by whatever means, causes automatic remote operation of the Emergency Rapid Shutdown Switch. The FireRaptor can be installed without any set-up and with any string inverter as its functionality is completely independent. "Plug & Play" style installation using industry-standard connectors is easy, whether fitted to new installs or retro-fitted to existing projects to upgrade fire safety functionality.
The FireRaptor meets the current requirements of NEC2017.
FireRaptor Installation
One FireRaptor will control two solar panels. The picture illustrates an example of a 2kW FireRaptor protected installation and; using eight 250W solar panels and four FRS-01 FireRaptors. The Emergency Rapid Shutdown Switch can be installed at a convenient ground-level location providing easy access during emergencies. Alternatively, multiple and; switches can be installed in different multi-level building zones; Disconnection of the external AC supply, by whatever means, causes automatic remote operation of the Emergency Rapid Shutdown Switch.