Victron Blue Power Automotive IP65 Battery Charger 12V/4A-12V/0.8A 1 Output with DC Connector & CEE 7/17 Socket
Victron Blue Power Automotive IP65 Battery Charger 12V/4A-12V/0.8A 1 Output with DC Connector & CEE 7/17 Socket
SKU:
BPC120480034R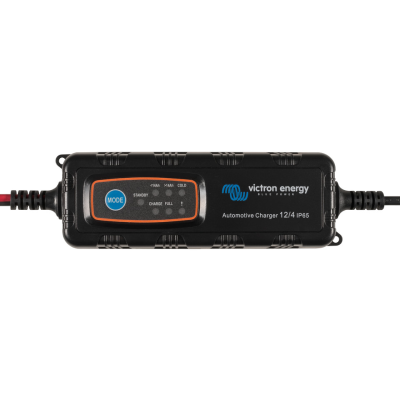 DC connector
Depending on the application, clamps, eyelets or a cigarette plug (all included) can be connected to the charger.
Login to see Trade Prices
Manufacturer

Victron Energy

Voltage

12V

Commodity Code

85044083

Dimensions (mm) (H x W x D)

42 x 61 x 185

Grid Voltage

230V

IP Rating

IP65

Number of Outputs

1
Less maintenance and ageing when the battery is not in use: the Storage Mode
The storage mode kicks in whenever the battery has not been subjected to discharge during 24 hours. In the storage mode, float voltage is reduced to 13,2 V to minimise gassing and corrosion of the positive plates. Once a week the voltage is raised back to the absorption level to 'equalize' the battery. This feature prevents stratification of the electrolyte and sulphation, a major cause of early battery failure.
Protected against overheating and reverse polarity connection
The output current will reduce as the temperature increases up to 40°C, but the charger will not fail. Output relay protects against reverse polarity connection.